Welcome our new Southern Field Sales Consultant
Here at Repose, we would like to wish a warm welcome to our new Southern Field Sales Consultant, Richard Wheeler.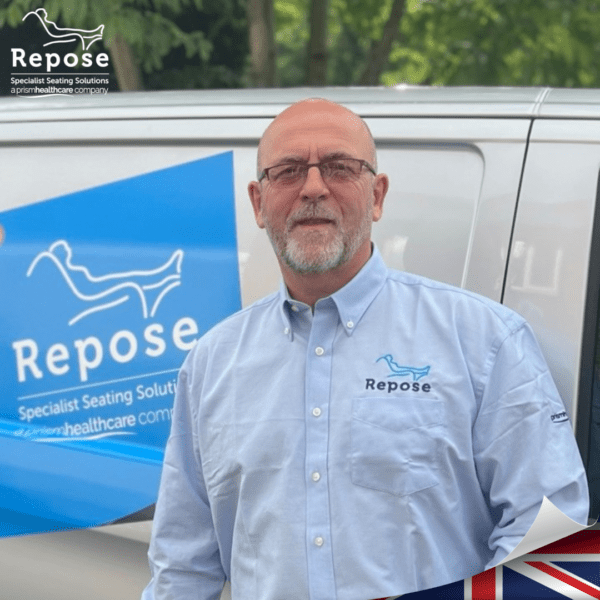 Richard has come to us with 37 years of specialist seating experience. He has worked with other specialist companies like Careflex, Kirton and Osprey, and the Prism Healthcare group, including Smirthwaite. This has provided Richard with valuable experience and an understanding of the client's specialist needs. Throughout his working career, he has gained a qualification in upholstery and has worked closely in designing some very successful specialist seating products, as well as moving and handling equipment. Richard also has a wealth of experience in seating assessments and is very passionate in ensuring the right product meets the user's needs. He also has experience as a moving and handling trainer and has worked all over Europe, as well as the UK and Ireland.
Throughout his career, Richard has worked with both paediatric and adult products. He specialises in Huntington's disease and Motor Neurone Disease (MND), and has experience with other health conditions like cerebral palsy and Autism. Throughout his working life, Richard has been a problem solver for many complex cases and has been called on due to his success in these cases.
In his spare time, Richard loves kayaking and is an artist too. He has sold his artwork internationally, and last year sold 96 pieces of art. He also has his own workshop at home, where he does upholstery as a hobby.
Richard will be available to support you in any seating requirements from the Repose product range, and can be contacted on 07944 957606 as of the 7th June 2022. He will be covering the south coast of the UK up to Oxford.
We're looking forward to working with you and it's a pleasure to have you on board, Richard!