Frail or Elderly and Seating – What to Consider
In medicine, frailty defines the group of older people who are at highest risk of adverse outcomes such as falls, disability, admission to hospital, or the need for long-term care (Young, 2013).
The term 'Frail elderly' can be perceived negatively by therapists for two reasons:
Frailty is not age specific.
Age does not necessarily infer frailty.
However, within the medical community the term frailty is a direct reference to age, namely the elderly.
It describes how our bodies gradually lose their in-built reserves, leaving us vulnerable to dramatic, sudden changes in health triggered by seemingly small events such as a minor infection or a change in medication or environment.
The NHS in England was the first health system in the world to actively identify people over 65 living with moderate to severe frailty using a risk stratification tool known as the clinical frailty scale.  The aim was to target key interventions including:
Falls risk/reduction.
Medicine management.
Accurate care records.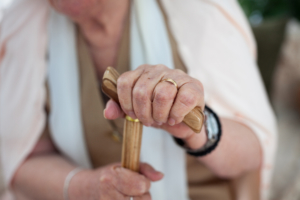 These interventions focused on those identified as at higher risk of hospitalisation, admission to 24-hour care or death.
For people living with mild to moderate frailty there are a number of tools for self-management which focus on proactive risk reduction or indeed acknowledgement to ensure independence is maximised.  For those with severe frailty the focus may change to elements such as skin care and nursing needs (if in 24 care or hoisted for example).
The focus on maintaining individuals in their own homes has blurred the traditional lines of perceived need between 24-hour care (residential or nursing) and typical domestic home care.
Whilst the environment remains an important element within any seating assessment the focus should always be meeting individual need and determining what goals you as the assessor intend to achieve.
Typically, people in these groups will be at home and may present with a variety of symptoms including:
Reduced energy.
Limited muscle strength.
Evidence of slowing generally.
Symptoms limit ADL's.
The assessment will therefore focus on areas such as:
Facilitation of safe transfers.
Falls reduction.
Maximising independence.
Promoting activity engagement.
Comfort/posture.
Energy conservation.
The movement from a sitting to a standing position is more complex than we often appreciate.  It requires us to gain sufficient propulsion from a resting position to move forwards and then upwards out of the chair.  Then follows the change in centre of gravity as we lean forward to generate initiation of movement.  This movement requires a certain amount of force and speed, and difficulty or slowness initiating movement can result in insufficient momentum to rise from the chair and then mobilise safely.
Mechanisms will be a very important choice and careful consideration should be given to ones which support assisted standing and potential self-repositioning with recline only and leg rest elevation features or Tilt in Space.
People with a severe frailty are likely to present with:
Dependence on support for ADL's (whether physical or cognitive).
Reliance on support for physical transfers (hoisting for example).
Multiple comorbidities.
The assessment will therefore focus on areas such as:
Pressure care and redistribution.
Manual handling.
Impact of seating on continence.
Complex postural needs.
Comfort.
Potential end of life care needs.
Recommendations may therefore include chairs with a tilt in space mechanism whilst supporting more complex health needs such as the Multi C-air, C-air or Haven.
A tilt in space mechanism allows the seat back angle to remain the same whilst the whole seating system is tilted backwards allowing the angle of the hips, knees and ankles to remain unaffected reducing shear and friction on the bottom and back during this movement. It also reduces the weight on the Ischial Tuberosities by redistributing the weight through the back.
This feature can also help when transferring someone in a sling as it can support better pelvic positioning by using gravity to position the user in the back of the chair in the optimal position.
Please carefully consider the mechanisms that are available for each chair.
Considerations when looking for a suitable chair:
The height of the seat must allow the user to sit with their feet flat on the floor. Always remember to ask whether a client uses slippers or not as this will affect height
The seat width needs to provide enough support to prevent a user slumping to either side in the chair.
The seat depth should be long enough to support the femur, but not too long to cause pressure problems behind the knees.
A motor that supports rising can facilitate a safe transition from sitting to standing whilst also providing a physical prompt to initiate movement and therefore reducing fall risks. The handset should be one that the user can operate without any pain or discomfort.
The back should be high enough to support the upper limbs and avoid pressure points on the large joints.
The fabrics and any comfort padding should be discussed with the client to make sure it meets their needs.
Always set goals with the client/carer and ensure that the recommended chair will achieve them.
There are many chairs in the Repose home and health ranges that are ideal for the frail and elderly – it will depend on the requirements of the individual such as, comfort, style, postural management and any health conditions.  Some excellent examples from the Repose ranges are: