The Protac Ball Seat Cushion alleviates uneasiness and hyperactivity
The Protac Ball Seat Cushion™ is filled with plastic balls that help to improve body awareness, it alleviates uneasiness and hyperactivity and promotes concentration and learning with children. It provides for a better, more dynamic posture.
As a person moves around in the seat, the balls inside the cushion will also move a bit, bringing the body's centre of gravity beyond its base of support in order to regain your balance, you have to automatically shift your position and sit up straight.
Shifting positions trains the muscles around the abdomen, back and lumbar area; this increases muscle tone and straightens your posture which relieves the pressure on your spine. For a child with a very restless body, the cushion can effectively absorb this restlessness since they will be moving on the cushion constantly.
The continuous stimulation from the balls provides the user with a more distinct awareness of the body and a greater sense of calm.This makes it easier to focus and concentrate on new tasks and input.
Available as a single or quadruple cushion design they come in 5 colours. The cushions have the option of different sized balls depending on individual requirements. They are suitable for different types of chair including classroom and shell chairs.
Children and youths
Patients with brain damage suffering from spasticity and sensitivity impairment, to sit on. The weight and pressure of the balls help suppress spasticity to give the patient enhanced body awareness. It can also be used to train balance with.
Sufferers of ADHD and autism can use the ball cushion to sit on in school or the home when unconcentrated. When the user moves on the cushion, the pressure of the balls stimulates muscles and joints, helping improve body posture, calmness and concentration.
Psychiatric patients who often suffer from muscular and psychological unrest. The cushion can be used to enhance concentration and help calm the patient. The cushion can be used for meetings and dining.
Sufferers of a range of development problems, sensory problems, deaf/blindness and to create enhanced sensory stimuli in the body. It is used for sufferers of stress to provide calmness, comfort and better body awareness.
Those with balance problems to assist with training muscle tone, being popular in occupational therapy and physical therapy.
Care homes, hospitals, hospices, charities, schools and special schools, psychiatric departments, waiting rooms, sensory rooms, treatment and therapy rooms as well as in people's homes.
A range of medical conditions:
ADHD
Anxiety
Autism
Brain Damage
Deafness and/or Blindness
Dementia
Development Disorders
Huntington's Chorea
Hypermobility
Mental Health conditions
Multiple Sclerosis
Neurological Disorders
Parkinson's Disease
Psychiatric Disorders
Sensory Disturbances
Sensory Processing Disorder
Tourette's Syndrome
The Protac Ball Cushion was developed to help sufferers of functional impairment and is suitable for a whole range of conditions in children and young people. It comes in two styles which allow for different seating / sensory requirements.
They are suited to different types of chair and are simple to connect by using the tie's at each corner of the cushion.
The cushion is often used in conjunction with the Protac vests (MyFit), knee blankets (KneedMe)  and footstools (GroundMe) as an overall sensory stimuli solution. The seat cushion has even been used by some people as a foot rest.
Available in a choice of five colours.
ADHD
A 10-year-old boy has been diagnosed with ADHD;

he suffers from mental and motor restlessness as well as difficulties concentrating. The boy is very disruptive in class as he is restless on his chair and makes a lot of noise. He now uses the ball cushion, which helps him to sit quietly for longer periods of time than before. He seems more focused and less noisy. The boy uses the ball cushion for all activities that require him to sit quietly and concentrate. A mother and occupational therapist talks about her eight-year-old son: "He now feels so much cleverer after he has been given the ball cushion to sit on at school." "Mummy – it used to take me an hour to do four sums, but now I can do six."
---
Poor concentration
A four-year-old boy:

He finds it hard to pay attention and concentrate when he has to sit and eat; this is a problem in pre-school in relation to the other children, but also at home. He tries sitting on a ball cushion on the Trip Trap high chair, and it helps him sit without being so agitated. A ball cushion is also placed under his feet, which has the effect of making him considerably more attentive, calmer and more able to follow what is happening around the table.

A six-year-old girl:

She goes to speech therapy has low muscle tone in her postural muscles. As a result, she finds it difficult to sit upright on a chair for any length of time, often collapsing and sliding down onto the floor. She tries the ball cushion, and is now able to sit and concentrate for the 30 minutes that the training lasts without feeling tired or collapsing.

A reception class pupil:

She has difficulty concentrating and sitting still on a chair. She sits on her knees on the chair, lies across the table and turns round and round. Now she sits on a ball cushion, and is immediately much calmer. After a couple of day's she was able to concentrate for longer – and is now sitting completely quietly on her chair. She is well aware that the cushion is good for her. When she arrives in the morning, she is usually the first to find her place, and if she wants to play on the computer or sit somewhere else, she pulls her chair with her.
---
Hypotonia and hypermobile joints
A girl in the pre-school class:

She has hypermobile joints, joint problems as well as moderate Sensory Processing Disorder, has difficulties sitting upright for longer periods of time. She grows tired and inattentive, and slouches in her chair. The girl tries sitting on a ball cushion, and is now better able to sit up during the lessons. The ball cushion also helps the girl's balance problems.

An eight-year-old boy:

He has low muscle tone in his postural muscles as well as very hypermobile joints. Consequently, he finds it hard to sit still and upright on a chair during classes at school and during mealtimes at home. The boy collapses and looks for support by resting on his desk – and that of his classmate. He is restless and sits in awkward positions. The boy tries sitting on a ball cushion, and a change is immediately observed in his posture and his ability to sit up and be quietly. The boy quickly becomes attached to his ball cushion. The school purchases a cushion for the boy. He is also given a cushion to use at home during mealtimes and when he is doing his homework (written by the children's occupational therapist).

Two boys at the special school:

I teach these two boys who have extreme hypermobility as well as being very restless. The children's paediatric therapist placed the ball cushion on the seats of the chairs as well as under the boys' feet, and it had a surprisingly positive effect on the boys' sitting position, their ability to sit still and their concentration. The school now uses the cushions in class, when the children are eating as well as for activities where the children are expected to sit still and focus on what they are doing.
---
Motor and mental restlessness
A young boy:

He suffers from extreme akathisia (a condition marked by motor restlessness, ranging from anxiety to inability to lie or sit quietly or to sleep) and the occupational therapist therefore suggests a ball cushion. The pre-school class teacher is sceptical, and says: "I thought it would be a problem to get him to sit on the ball cushion. I thought he wouldn't want to stand out by having a different seat in class. But it is quite the opposite – he loves his ball cushion, and is only prepared to part with it for short periods of time, only lending it to his friends. And the entire class is much calmer now that he is more balanced within himself."
There are two styles of cushion both of which come in one size, 40 cm by 40 cm and with an approximate weight of 4kg.
They can be supplied with either 25mm or 38mm Protac Balls.
The fabric is 100% polyester and the cushions are washable, but please ensure that you follow the cleaning instructions in the user manual.
There are five colours available in the range – Aqua Blue / Lime Green / Dusty Green / Grey / Charcoal.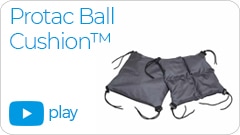 Warranty
All Protac products carry a two-year warranty.
Warranty Exclusions
Fabric and product damage resulting from misuse, negligence, abuse, accident or incorrect cleaning
Damage caused from normal wear and tear and lack of, or, incorrect maintenance
Important Warranty notes:
Only the balls used by the manufacturer may be used in the Protac Ball CushionTM – to use others will invalidate your warranty
No modifications should be made to the product and all spare parts need to be those recommended and used by the manufacturer / supplier – to do so will invalidate your warranty.
Medical Equipment - Labelling
The products are labelled according to legislation regarding medical equipment Class 1.