Repose use only the finest fabrics for your furniture...
sourced from reputable upholstery mills, this being anything from standard domestic options right through to leathers and specialist healthcare fabrics.
Our Homecare fabrics range
The styles and designs are important to ensure they complement most environments they are positioned in to. So by working closely with the buyers for each of our suppliers, we can ensure you have the latest fabrics available.
There is an extensive range available with choices of patterns, plains, textures and colours, meaning that you have the freedom to choose your own combination on any of our products. It's virtually impossible to show you the complete range, so we welcome your images and ideas to either match or help us to advise you of your choice further.
Need a fabric sample to perfectly match your furniture?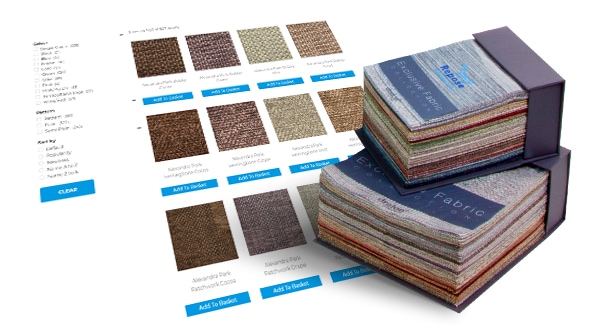 Find and order today with our fabric swatch finder
Don't forget, if there isn't an option you like, or you want to match existing furniture, then we a service where you can supply your own and we'll manufacturer your furniture for you.
Introducing our Healthcare Fabrics
All our health fabrics are Waterproof, Anti-MRSA, Anti-bacterial, Anti-fungal, Crib 5 and bleach cleanable and all cushions and cushion covers are removable for cleaning purposes.
Introducing our Leather options
Repose are proud to be working with Crest Leather who have been crafting some of the world's most innovative looks - combining centuries-old italian craftsmanship practices with pioneering technology and style.

Aquaclean® technology is a revolutionary fabric treatment that allows you to clean stains using water only. This provides you with simple fabric maintenance in the minimum amount of time.
Aquaclean helps to remove the majority of household stains (wine, ink, sauce, fat, mud, chocolate, cream, etc.) making life easier and giving you more time for the more important things.
Aquaclean® technology is an advanced fabric protector for upholstery of all kinds. It's a treatment that covers every fibre with an invisible molecular layer that prevents dirt from penetrating the fabric. Shieldplus™ Technology is a proven defence against Coronavirus Strain.
This Technology attracts microbes such as bacteria, fungus and viruses – including the Coronavirus Strain and destroys them on impact with 15 minutes of contact.
Giving you peace of mind for the duration of the product Shieldplus™ is not just available as a fabric but now as a protective solution. The range offers the most advanced, modern anti-microbial products that afford long-term protection, essential for any location and any situation that demand the highest standard in hygiene.