Protac GroundMe®­ Healthcare Chair
The Protac GroundMe is a sense-stimulating foot cushion
The Protac GroundMe  eases restless legs syndrome, hyperactivity and difficulty concentrating. it stimulates the sense of touch as well as the muscle and joint position senses, sharpening concentration and promoting better learning. Provides calm and a sense of connection.
Protac GroundMe is a dynamic footstool and cushion for children, adults and the elderly who, due to mental and motor restlessness, find it difficult to sit still and concentrate for longer periods of time. It stimulates the sense of touch and the muscle-joint sense, and contributes to calm and concentration, as well as improved learning for any user in an educational setting.
It stabilises the feet and improves posture when used as a footrest. The Protac balls inside the top layer of the cushion stimulate the feet, providing relief for restless legs.The foot cushion can be used when working, eating or relaxing.
As a floor cushion for young children the pressure and movement of the balls promotes calmness and focus.Therapists and specialists use the foot cushion as an aid for motor skill training. For example, it can be used as part of a motor skills obstacle course that challenges and trains balance and coordination.
Comes in two sizes and 5 colours and is supplied with an individual storage bag.
Adults, the elderly, children and youths
Sitting and as a foot rest
Both children and adults, and alleviates balance problems, learning disabilities and physical unrest.
Those suffering with ADHD and autism helping with relaxation and concentration. Children with ADHD and autism in particular benefit from using the cushion to reach the ground with their feet when sitting on a chair, creating calm in the body to allow them to concentrate on school work.
Sufferers of a range of development problems, sensory problems, deaf/blindness and to create enhanced sensory stimuli in the body.
Elderly sufferers of restless legs syndrome. The movement of the feet over the balls gives multiple sensory stimulation, providing more feeling in the feet.
Care homes, hospitals, hospices, charities, day centres, schools and special schools, psychiatric departments, waiting rooms, sensory rooms, treatment and therapy rooms as well as in people's homes.
A range of medical conditions:
ADHD
Anxiety
Apoplexy
Autism
Brain Damage
Cerebral Palsy
Chronic Pain
Deafness and/or Blindness
Dementia
Development Disorders
Huntington's Chorea
Hypermobility
Multiple Sclerosis
Neurological Disorders
Parkinson's Disease
Psychiatric Disorders
Sensory Disturbances
Sensory Processing Disorder
Sleep Disorders
Stress
Tourette's Syndrome
The Protac GroundMe cushions were developed to help sufferers of function impairment. It can be used as a seat or as a foot rest.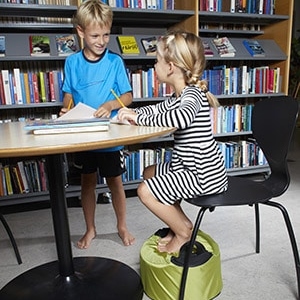 It has a foam bottom and sits sturdily on all surfaces. The upper layer is a pocket of loose Protac balls beneath an elastic top cover. Carrying straps make it easy to take the cushion around with you. It can also be hung up when not in use. It also comes with a non-woven storage bag for protection against damp and dirt.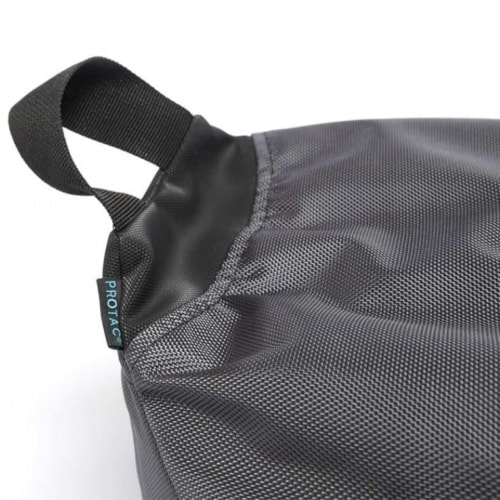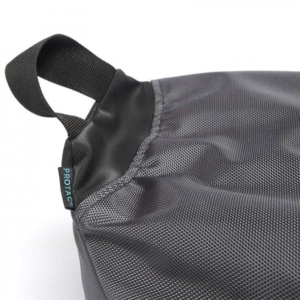 It is available five colours and in two different heights 10 cm and 20 cm. The 20cm high cushion is most suitable as a floor cushion.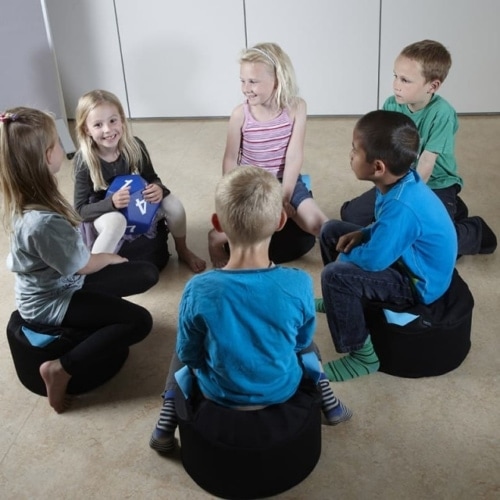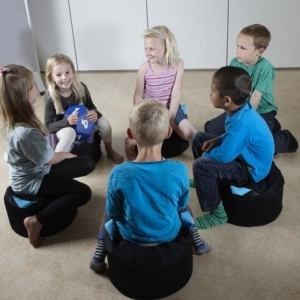 The Protac GroundMe can be washed in line with the cleaning instructions in the user manual.
ADHD
Girl, aged 9, with developmental disorders and ADHD:

GroundMe is used at mealtimes and when doing her homework, as she finds it difficult to sit still and be in the present. Therapist: "I notice that she is calmer and more attentive when she is using the footstool. For once, she sits properly on a chair; normally, she is extremely restless and sometimes even has to stop eating and leave the table as she is unable to remain seated. The footstool gives her the peace to finish what she is doing."
---
Autism 
Autistic boy, aged 8:

"I use it every day and I think that I work better when I'm using it. I feel more relaxed and I also remember to go and get it," (which is not something he would usually do – normally he would just make do with the things around him). Specialist teacher says: "We are training a five-year-old girl at home who has infantile autism as well as such severe sensory disorders that she is not able to be in an institution. She always wears a ball vest outside, sits on a ball cushion, and she has now tried a GroundMe (the low model) with good effect."
---
Concentration 
Social educator in a mainstream school:

"We have two boys in particular for whom GroundMe is hugely beneficial. They concentrate better, and can even fill a whole pegboard with beads now. We also use GroundMe when we come together as a group, which we always do on the floor. When they use GroundMe to sit on, they manage to remain seated without running around, and they also participate more in what is happening."
---
Motor and mental restlessness 
A 10-year-old-girl finds it hard to sit still, and has poor concentration and poor body image. Therapist: "She finds the peace to engage in activities at the table when she is able to place her feet on the footstool. Much of her physical restlessness has been moved down there, which helps her and is also far less disturbing for the children around her. Also, she remembers to take the footstool with her from chair to chair – which is not something she would normally do with things which weren't important for her.
There are two sizes of cushion 20cm and 10cm heights. Please note that the Sensit chairs come with the option of purchasing a separate Pouffe. This can also be used for seating sensory stimuli.
There are five choices of colour as shown; Aqua Blue, Black, Dark Grey, Dusty Green, Lime Green.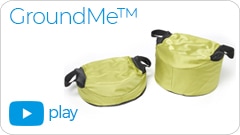 All Protac products carry a two-year warranty.
Warranty Exclusions
Fabric and product damage resulting from misuse, negligence, abuse, accident or incorrect cleaning
Damage caused from normal wear and tear and lack of, or, incorrect maintenance
Important Warranty notes:
Only the balls used by the manufacturer may be used in the Protac GroundMe™ – to use others will invalidate your warranty
No modifications should be made to the product and all spare parts need to be those recommended and used by the manufacturer / supplier – to do so will invalidate your warranty.
Medical Equipment - Labelling
The products are labelled according to legislation regarding medical equipment.