Protac KneedMe­® Knee Blanket
The Protac KneedMe is a sense-stimulating knee blanket
The Protac KneedMe is designed for those with physical and mental unrest who need help alleviating uneasiness in the mind and body while engaged in sitting activities. It Promotes peace and a sense of security for young people, adults and the elderly suffering from mental and motor restlessness.
The Protac KneedMe stimulates the sense of touch as well as the muscle and joint position senses. It rests on the lap, covering the knees and thighs and promoting calmness, focus and concentration for the user. It is well-suited for those with dementia, hyperactivity, physical unrest, Parkinson's disease and restless legs syndrome.
For people with restless legs and feet, which often affects people suffering from hyperactivity or 'restless legs syndrome', the blanket can often help to calm them down.For example, the knee blanket can be used in armchairs, in wheelchairs or for seated activities during the day.
It is used by therapists and professionals when providing therapy and motor training for patients and clients who find it difficult to cooperate, stay focused and concentrate.It has proved beneficial in connection with cognitive training, speech therapy, hand therapy, personal care, ADL training or treatment according to the principles of Affolter,  Bobath and Coombes (ABC concept).
Available in adults and children's sizes.
Adults, the elderly, children and youths
Care homes, hospitals, hospices, charities, schools and special schools, psychiatric departments, waiting rooms, sensory rooms, treatment and therapy rooms as well as in people's homes.
A range of medical conditions:
ADHD
Anxiety
Apoplexy
Autism
Brain Damage
Cerebral Palsy
Chronic Pain
Deafness and/or Blindness
Dementia
Development Disorders
Huntington's Chorea
Hypermobility
Multiple Sclerosis
Neurological Disorders
Parkinson's Disease
Psychiatric Disorders
Sensory Disturbances
Sensory Processing Disorder
Sleep Disorders
Stress
Tourette's Syndrome
Range of Colours
Protac KneedMe, comes in two sizes and a range of colours.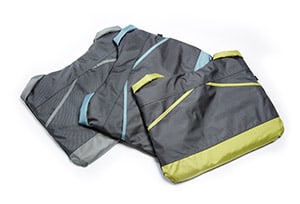 Functional Design 
It consists of a blanket with a removable outer cover and a bag with heavy plastic balls sewn in channels. It has two pockets for the user to place their hands in. On the reverse side of the blanket there is a non-slip grip sheet to preventing it from falling off the knee. It is also fitted with a belt with two straps which can be attached around the user's waist to also prevent the blanket from sliding off their lap. When the belt is not used, it folds away into the cover.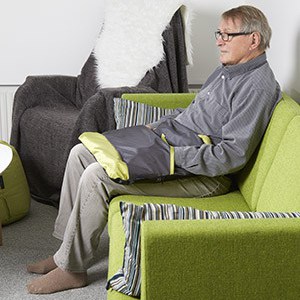 There is a large pocket on the top side of the Protac KneedMe which can be used for keeping objects that the user likes to hold and touch. The pocket has a strap which can be used for attaching tactile items such as keys.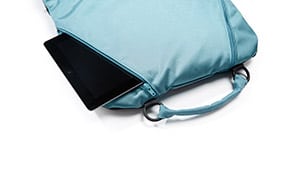 Carrying case
The blanket is supplied with a carrying case which can be carried using the shoulder strap or handles.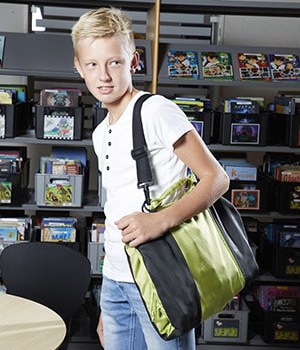 The knee blanket can be washed following the recommended cleaning instructions in the user manual.
Dementia
A 62-year-old woman with Alzheimer's dementia:

She has serious physical, mental and cognitive deterioration as well as depression. She experiences much discomfort due to physical and mental restlessness. She has found it increasingly difficult to handle sensory input and becomes easily overstimulated. This is manifested in violent physical movements and a loud, angry voice.

The woman spends a lot of time in her room now because she needs to be separated from other people. The woman finds it difficult to accept being handled and being turned in bed in connection with personal care. She has the Protac KneedMe blanket drawn over her straight after her morning care routine. She is given the choice of staying in bed with the knee blanket over her or being transferred to an armchair, again with the blanket, after which she feels safe and secure. If she is restless from the early morning, she has the knee blanket put over her and her morning care routine is delayed until she is calm and more amenable.

The woman has a chair for Huntington's Chorea patients, which she uses each day with the knee blanket over her. Seated here, she is often smiling, relaxed and at ease. When you walk into the room, she often turns her head and greets you with a smile or a quiet greeting and pleasant 'chat'. Mealtimes go more smoothly than before, now that she has the knee blanket.

Woman in her mid-70s with Lewy - Body dementia:

She is in a wheelchair and needs full help and support for all daily activities. She has Parkinson's-like jerky movements, fluctuating attentiveness and sometimes suffers from hallucinations. When she becomes psychologically upset, she sometimes shouts loudly with a sustained monotonous sound.

She has used the Protac KneedMe for several months. The aim was to enable her to engage in social interaction and participate in musical activities. It was already clear on the first occasion that the knee blanket had a good effect. She became more attentive and focused on the music, and the monotonous sounds were replaced by occasionally humming along to the songs.

The knee blanket is now used in different ways, both preventively and to induce calm. The result is a general reduction in mental and motor restlessness. It leads to improved well-being, her facial expression relaxes, she makes less self-stimulating noises and she sometimes makes eye contact, smiles and says a few words. The knee blanket is usually removed after a couple of hours, as the effect otherwise seems to be reduced.

Woman in her mid-80s diagnosed with Alzheimer's:

The woman has a tendency towards verbal self-stimulating behaviour and is very persistent in her noises. She sings insistently and speaks loudly to herself. The woman has the Protac KneedMe blanket put on her straight after her morning care routine in an attempt to prevent the noises and self-stimulation from escalating.

It was evident from the first trial that the knee blanket induces calm in the woman; her voice is quieter and she responds to speech in a more responsive way. After using the knee blanket, her facial expressions are gentler than usual. The woman now sits with it every day, and ideally several times throughout the day. Initially, the knee blanket often fell down onto the floor. The straps on the knee blanket were therefore tied around the woman's waist so that it remained lying on her lap. This has not caused the woman any irritation or discomfort.
There are two sizes:
Adults 
Dimensions –
Weight – 4kg
Children's 
Dimensions - 65 cm by 45 cm
Weight 3.2Kg
There is a choice of three colours – Dark Grey, Lime Green or Aqua Blue.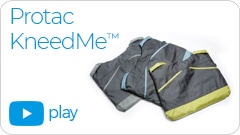 Warranty
All Protac products carry a two-year warranty.
Warranty Exclusions
Fabric and product damage resulting from misuse, negligence, abuse, accident or incorrect cleaning
Damage caused from normal wear and tear and lack of, or, incorrect maintenance 
Important Warranty notes:
Only the balls used by the manufacturer may be used in the Protac KneedMe™ – to use others will invalidate your warranty
No modifications should be made to the product and all spare parts need to be those recommended and used by the manufacturer / supplier – to do so will invalidate your warranty.
Medical Equipment - Labelling
The products are labelled according to legislation regarding medical equipment Class 1.