How To Choose a Recliner Chair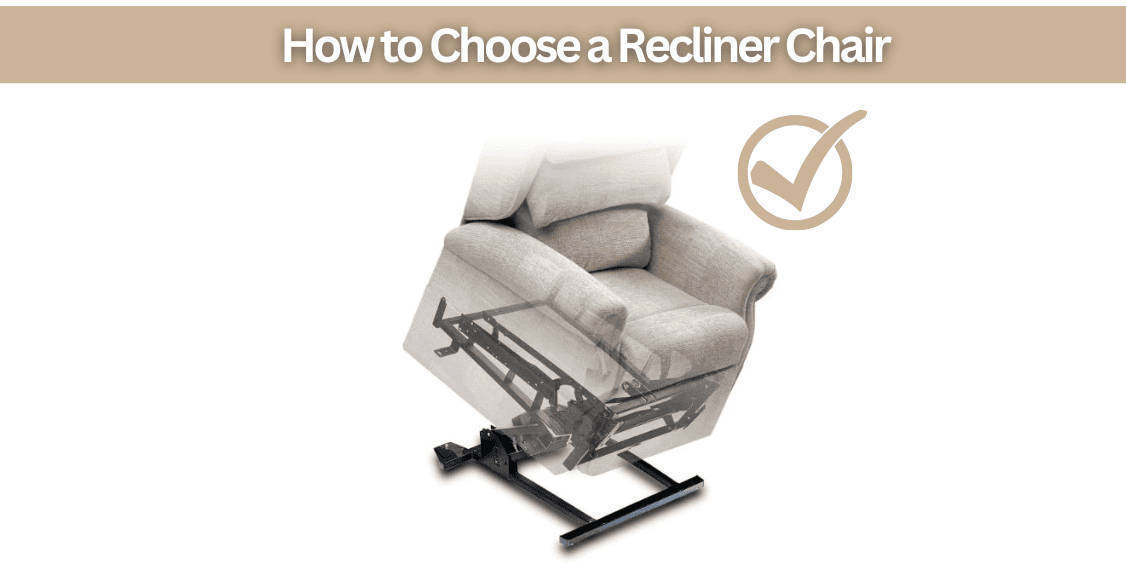 Shopping for a recliner chair can be overwhelming, but with the right approach, you can find the perfect chair for your needs. Here are some steps to help you make an informed decision:
1. Determine your style preferences: Consider the overall style of your home or office and choose a recliner that complements it. Decide whether you prefer a modern, traditional, or transitional design.
2. Consider size and space requirements: Measure the area where you plan to place the recliner to ensure it fits comfortably. Take into account the dimensions of the chair when fully reclined as well.
3. Explore different materials and upholstery options: Recliners come in a variety of materials, such as leather or fabric. Consider the durability, comfort, and maintenance requirements of each option.
4. Evaluate comfort features and mechanisms: Look for features like cushioned headrests, lumbar support, and padded armrests. Test out different reclining mechanisms, such as manual or power recliners, to see which one suits you best.
5. Set a budget and compare prices: Determine how much you are willing to spend on a recliner chair and research different brands and models within your price range. Compare prices from different retailers to ensure you get the best deal.
By following these steps, you can select a recliner chair that not only fits your lifestyle but also provides the comfort and style you desire.
Determining Your Style Preferences
Determining your style preferences is an important step in choosing the perfect recliner. Consider your decor and personal preferences to ensure that the recliner will fit in perfectly. Do you want a modern look or something more traditional? Decide if an armchair or full-size recliner is right for you. Look at colours, patterns, and textures to find the perfect match.
Also, consider how durable and easy to clean the material should be. Take into account who will use it and for what purpose - is this chair primarily for comfort or also for occasional entertaining?
With these questions in mind, you're sure to find a recliner that fits your style and your needs!
Considering Size and Space Requirements
When considering the size and space requirements for your furniture, it is important to take into account the available space. This will ultimately determine how comfortable you will be when using your furniture. Measuring the room is essential for ensuring that your recliner fits in its intended spot.
Consider both the overall dimensions of the chair, including its height and depth, as well as any arms or other features. It is also important to consider whether you plan to place the recliner against a wall or in an open area. If it will be placed against a wall, make sure there is enough clearance to fully recline the backrest and seat without hitting anything behind it.
Additionally, take a look at where your feet will rest when you are reclining. Do you need extra space for your legs? Considering these factors will help you choose the right size recliner for your space.
Our team is here to assist you in selecting the perfect size recliner so that your new addition to your home can provide years of comfort and enjoyment!
Exploring Different Materials and Upholstery Options
Discovering the perfect material and upholstery for your space is essential for maximum comfort and aesthetic appeal. We understand that choosing the right combination can feel overwhelming. Let's explore some popular options.
Leather Recliners
Leather is often associated with luxury furniture, making it an excellent choice if you want to make a lasting impression. Its rich texture and durability make it a top pick for many.
Fabric Recliners
For those who want their chair to stand out, fabric recliners are a fantastic choice. With a wide range of colours and textures available, you can find the perfect fabric to complement your space and express your personal style.
Ultimately, the decision comes down to personal preference. Take the time to explore different materials and upholstery options, ensuring that you choose what feels right for you.
Evaluating Comfort Features and Mechanisms
When evaluating comfort features and mechanisms in a recliner, it is important to consider several factors. Be sure to inspect the chair's components for any sharp edges that could cause discomfort. Furthermore, pay attention to the level of cushioning provided by the back and seat cushions. Recliners with pocketed coils and memory foam tend to offer enhanced comfort. Lastly, assess the power mechanism of the recliner. It should operate smoothly and quietly when reclining or returning to an upright position. By thoroughly evaluating these features and mechanisms, you can find a recliner that combines both style and comfort.
Setting a Budget and Comparing Prices
When determining your budget for a reclining chair, it's important to compare prices and consider the features you require. Consider if you're looking for something specific, such as a certain colour or fabric, or if any model will do. Consider how much use the chair is likely to get, and whether it should be built to last. Also think about where you'll be using it - will regular moving of the chair be necessary?
Take into account all these factors when considering price comparison. Look at several different models with similar functions and compare their features to determine which one is best suited for your needs. Don't forget to factor in shipping costs, as well as any other fees associated with purchasing the chair. Additionally, check out reviews online from people who have already purchased similar chairs. This can help you make an informed decision on which recliner fits your needs and budget best while providing quality comfort for years to come.
Choose Repose's Riser Recliners
In the realm of comfort and care, Repose presents its Riser Recliner chair collection tailored to your needs. Crafted with a caregiver's understanding, these premium recliners are a sanctuary for those who may face challenges with conventional chairs. Merging unwavering support with serene comfort, they facilitate smooth transitions, whether you're settling down or rising up. The intuitive control panel lends you control over the footrest, backrest, and seat, adapting to your pace and ensuring safety.
Your preferences are paramount that's why we offer bespoke Recliner Chairs. We offer a wide spectrum of options from colours to fabrics and motor types, including Dual Motor and Single Motor chairs, personalisation is at your fingertips. Beyond comfort, these chairs endorse wellness by mitigating health risks, amplifying stability, and nurturing mobility. They offer respite by preventing pressure sores and granting a greater range of seated motion for relief. Complementing diverse home aesthetics while providing indispensable support, Repose's Riser Recliner chairs are an embodiment of care and comfort.
You can contact our team by using our quick and easy contact form below. You can also speak directly to a member of our team on +44 (0) 1384 567401 or by emailing us at info@reposefurniture.com. We look forward to hearing from you.