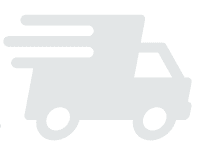 Need this chair in a hurry?
Order today, before 11 am and your chair will be with your supplier within 5 days*.
Designed for comfort and pressure management control it comes with a Standard Dual Motor with a maximum user weight of 40 stone (254kg), offering a wide choice of positions, adjustable waterfall back which is very useful for those with mild kyphosis, scoliosis and reduced muscle mass and interchangeable seat cushions with different pressure management options.
Accommodating the gluteal shelf, reducing shear and friction during movement and aiding the person when they want to stand are all key features.
Whilst this is ideal for a quick delivery, we also offer made-to-measure specifications on our standard lead time.
The Express Multi Bari comes with our bestselling waterfall back.

In addition, all cushions can be repositioned to suit a user's individual seating preferences and fibres added or removed from fibre filled cushions to adjust firmness. Covers can also be removed for cleaning.

If you would like to find out about what back cushions are available on other healthcare chairs from the Repose range please contact the sales department on 01384 567401.
---
Waterfall
Individual fibre filled waterfall cushions, each of which are fully adjustable to accommodate maximum postural support. The waterfall back can be useful for those with mild Kyphosis, Scoliosis and reduced muscle mass on their back.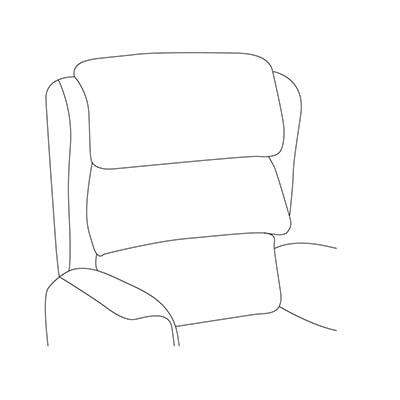 There is a choice of two pressure management seat cushions each with different features. 

The cushion you choose can be removed and interchanged with the other seat cushion option. You can purchase one or more cushions to support the different needs of individuals who may use this chair.  Cushions and covers are removable for cleaning and replacement.

With all pressure management seat cushions, we recommend a fabric with four way stretch properties to aid the reduction of shear and friction.

If you would like to find out about what seat cushions are available on other healthcare chairs from the Repose range please contact the sales department on 01384 567401.
---
Viscoform
For those who have good posture and mobility but are seated for greater than one hour at a time and require pressure relief and supported comfort. This cushion has a high-density foam base which offers a supportive and firm seat base with a top layer of memory foam to allow immersion into the cushion, giving stability and a large surface area to reduce pressure levels.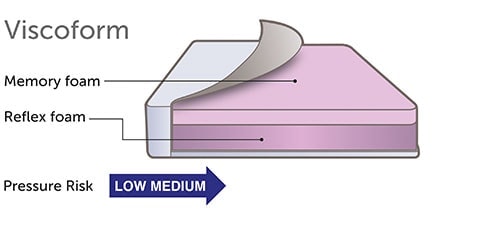 ---
Coolform
For those sitting for long periods with specific comfort issues such as a high risk of pressure sores. This cushion uses the latest medical grade silicone gel technology allowing pressure to be evenly distributed. The gel conforms to the shape of the body and equalises to body temperature. The gel cells allow air to flow easily and Coolform is totally odourless and hypoallergenic.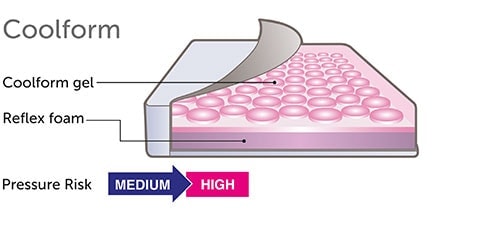 Overall Weight Limits
The Multi-Bari has a weight limit of 254 Kg (40 stone) and a leg rest with a capacity of 160 Kg (25 stone) as standard.
Seat Cushion Weight Limits
Certain pressure management seat cushion options have their own overall weight limits, details of which can be found in the Seat Cushion Section. The maximum leg rest weight limit is unaffected by the seat cushion.
Important Dimensions
| | |
| --- | --- |
| Seat Height | 457mm (18") |
| Seat Width | 660mm (26") |
| Seat Depth | 508mm (20") |
| Standard Back Height | 762mm (30") |
| Arm Height | 203mm (8") |
Please note that:
Depending on the seat cushion built into the chair the seat height may vary slightly from the shown above. Due to the pressure care components used for each cushion, this will compress under the weight distribution of the user.
The most important aspect to consider before purchasing any healthcare chair are the seating positions that are required to aid the conditions of the client and address any pressure and postural management needs.
The Multi Bari is available with a Standard Dual Motor mechanism. Please check the Sizes Section for all user weights and dimensions before selecting your chair.  For demonstrations of the mechanisms described below please watch the relevant videos.
If you would like to find out about what mechanisms are available on other healthcare chairs from the Repose range please contact the sales department on 01384 567401.
---
Standard Dual Motor
The Standard Dual Motor comes with an independent backrest recline and independent leg rest movement that enables a whole range of positions to aid posture and pressure management. It also has a rise function to aid standing from a seated position.
The independent recline allows the user to maintain flexibility over their body's position, particularly the amount of hip flexion, enabling them to maximise comfort as well as managing health needs.
The independent leg rest offers the user additional flexibility over positioning, allowing them to either use it in conjunction with the recline feature to create the optimal posture for their body shape.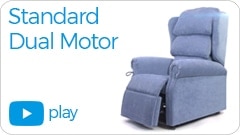 Below is a summary of our Standard two-year warranty terms and conditions.
There is also the option to upgrade to a five-year comprehensive care plan.
Standard Two-Year Warranty

Two years on mechanisms, frame, upholstery and electrics.

One year on air seat cushions and also on some additional accessories such as the Accupak, 20 Cycle Back up and Relaxor heat and massage systems.

Repose will repair or replace, at our discretion and free of charge to the original purchaser, any parts covered by this warranty and that on examination, are found to be defective in material and/or workmanship. The warranty is for parts and labour only. The product or parts requiring repair/replacement must be returned to Repose by you and you will be responsible for the costs of packaging, postage and any postal insurance.

Any products returned to Repose must be disinfected and should pose no health hazard.

For full details of the warranty including return of faulty products, exclusions etc. please see downloadable 2 year warranty document below.
---
Upgrade to a Five-Year Warranty*

You can upgrade your standard warranty anytime within 14 days after delivery of the chair. You can upgrade to a unique five-year comprehensive care plan that includes:

Comprehensive cover for structural and accidental damage
Stain removal and repair at no extra cost to you
One call for advice and service
National network of professional technicians
Original value replacements

It truly offers real peace of mind, covering you against:

Structural damage to:
Accidental damage including:
Staining

For full details of the upgrade warranty please see the downloadable 5 year warranty document below.
* non-commercial only