Power vs Manual Recliner Sofa – Which One Should You Buy?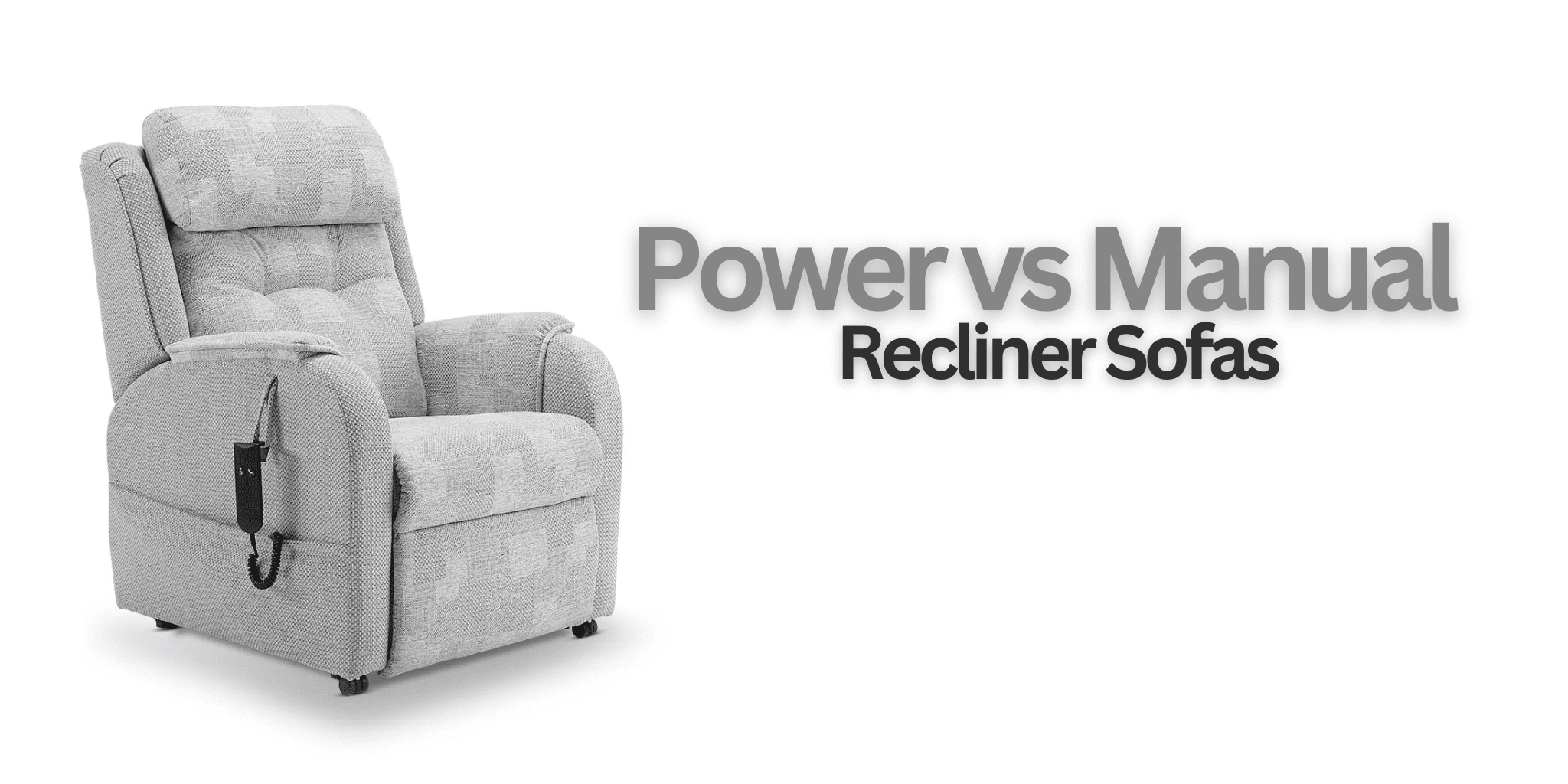 Recliner furniture can offer users a more comfortable way of sitting. While it's often been thought that sitting up straight is the best position, new research has shown that a 135-degree angle can be a better sitting position for people, especially those with chronic pain conditions or medical issues that can make sitting uncomfortable, and for people with limited mobility. When it comes to reclining furniture, you have two different options; a power vs manual recliner.
This post looks at the differences between both and how to find the right recliner for you.
What's the Difference Between Power and Manual Recliners?
The most notable difference between a power vs manual recliner is the power. A power recliner has a motor, while one is operated by hand.
What is a Power Recliner?
Power recliners are pieces of furniture that use electricity or another source to recline, meaning all you need to do is press a button. Power recliners need to be connected to an electricity source to be operated, or you will need to buy a battery pack to charge it. And you control the positions using the handset, which will be attached to the recliner. Some recliners will come with more than one motor, which allows you to operate different parts of the recliner for maximum comfort, such as the headrest moving separately from the footrest. As well as this, they can come with many additional built-in features such as a massage option, heating, extra lumbar support and more that require the use of electricity to use.
Power recliners can come with a greater range of use than their manual counterparts. As you can use the handset to control the recline, you can experiment with the different settings more precisely to help you find the correct recline for your needs. For starters, you can move the footrest and headrest independently of each other to allow you to find the best angle for you to sit.
For example, power recliners can come with the ability to provide zero gravity reclining, which means you can move to an almost horizontal position in the chair without fear of falling out of it, or you can benefit from an infinite number of recline positions at a touch of a button which can help you to sit comfortably and alleviate any pain you might be feeling from health conditions, back pain from poor sitting posture, and even improve circulation by promoting a healthier seated body position.
On top of the range of motions, the power recliner can also support more effortless sit-to-stand movements with specific features to help lift you gently from the seat without putting too much pressure on the body.
They Tend to Come With Many Additional Features.
You can choose a recliner with the right added extras for added comfort and convenience. Thanks to being powered by electrical sources, when it comes to power vs manual recliner choice, the power recliner can offer you more features. As you will be connected to a power source, you can charge your electrical devices via your recliner thanks to built-in USB ports eliminating the need to find a charger.
Other handy options include cup holders so you can always access your drink easily from your reclined position, remote controls so you don't need to worry about finding the control on the unit itself for added convenience, and some recliners feature massage and self-heating options perfect for alleviating soreness and tired muscles. and keeping you warm in colder weather. This can be especially beneficial for those with health conditions or who like the finer things in life.
They Require Electricity to Function Fully
A power recliner's main drawback is that it requires an electricity source to operate it. This means you will be limited to where you can place your furniture in a room. While you can get battery packs for charging, this can mean you run out of charge if you don't top the battery up, leaving you without all the electricity-powered features. On top of this, with your recliner being plugged in for an extended period, it can drive up your electricity usage, which leads to higher bills. This is something to consider when choosing a power recliner.
Electric Recliner Chairs are Typically More Expensive Than Manual Recliners
Due to how power recliners are made and the motor required to power them, they will likely be more expensive than a manual recliner. The higher costs are down to the additional parts needed to make the recliner and the features that they come with. Power recliners have more moving parts and require a more complex design to support their functions. This can also lead to a shorter lifespan as these parts break down and become subject to wear and tear or higher repair bulls to fix any motor issues meaning that not only do you pay more for the recliner, you might find you need to keep paying out during ownership too.
What is a Power Recliner?
Manual recliners are a piece of furniture that allows the user to lift the footrest and move the back of the seat into a reclined position. They work via a handle on the side of the unit that you pull to get into the correct position. Some manual recliners operate via this button alone, while others require you to use your body weight to move it to the right place.
Manual recliners can also have additional features, such as a swivel base allowing you to change your position to look a different way or even activate a rocking feature for added comfort. These types of recliners can move the whole part of the seat backwards or adjust from a wall position to lift your footrest and allow you to sit in a leaning position without moving the entire seat from the wall.
As mentioned above, when looking at power vs manual recliners, the main port to a manual recliner is that you do not need to hook it up to the electrical supply to use it. This gives you greater positioning options and keeps your electricity bills down. You can use it anywhere indoors or outdoors and not worry about experiencing a power outage and not being able to use the chair.
Also, due to the non-electrical aspect, the chairs are often more sustainable and environmentally friendly for this exact reason, as you aren't increasing power consumption to use the recliner, and you can use it manually.
When it comes to using a manual recliner, all you need to do is pull the lever to move the positions. Some recliners will need your body weight to move them into additional positions, such as zero gravity. Still, on the whole, compared to power recliners, manual ones are easier to navigate.
They also require fewer moving parts to make the recliner change options, meaning fewer things can go wrong, providing you with longevity and increased durability.
Cons of a Manual Recliners
They are Noisier to Operate 
While power recliners might benefit from a smoother transition between positions, manual ones typically come with added noise due to how they move. From the sounds of the lever being pulled to move the unit into place and hitting its limits as far as the recline positions go or if it hits an obstacle when reclining. This can disturb the user and anyone in the room for short periods. There can also be noise as you move around in the chair due to the way the chair is made and the support features in manual recliners, which in turn will be affected by the age and condition of the unit too.
Don't Come With As Many Features as Power Recliners 
Manual recliners simply aren't equipped to offer as much flexibility as power recliners and, as such, can be limited as to what they can offer. While there are lots, such as lumbar support and different degrees of reclining, this is the most you can expect to find from a manual recliner.
Contact Repose Furniture for All Your Recliner Needs Today!
No matter your seating and comfort preferences, Repose Furniture has the product you need. With a growing list of cherished and satisfied customers, Repose Furniture understands the recliner market and which customization choices would work best for you. With competitive pricing, world-class customer service, and many iconic Riser recliner chairs to choose from, we'd love to help you find your forever chair.
If you're looking for a comfortable recliner chair, look no further than our vast collection of Riser Recliner Chairs by clicking here.
Alternatively, you can contact our team by using our quick and easy contact form below. You can also speak directly to a member of our team on +44 (0)1384 567401 or by emailing us at info@reposefurniture.com. We look forward to hearing from you.