Chepstow Riser Recliner Chair
The luxurious cushioned Chepstow riser recliner offers extra back support
The Chepstow uses deep lateral cushions to gently hold the back in a comfortable central position.
This rise and recline chair comes with a multitude of optional extras.
Choose from a large choice of fabrics and colours
Made to measure
Dual or Single motors available
Accessorise your chair with various options
Choose your comfort seating
Repose offer a wide range of chair sizes from small to larger sizes ensuring both quality and comfort. Your supplier will advise you on the size and weight combinations available.
The Chepstow riser recliner comes with the following standard features:
| | |
| --- | --- |
| A Side Pocket For Storage To The Right Hand Side Arm | |
---
| | |
| --- | --- |
| Loop To Match Pocket | |
---
| | |
| --- | --- |
| Durable Castors | |
---
| | |
| --- | --- |
| A Safety Device To Lower The Chair In The Event Of A Power Cut |   |
---
| | |
| --- | --- |
| A Two-Year Warranty, With An Option To Purchase Our Comprehensive Five-Year Care Plan |   |
The Chepstow riser recliner comes in various sizes, tailored to your needs.
Seat Height 14 - 21"
Seat Width 18 - 22"
Seat Depth 18 - 22"
Other adjustments
We can also offer adjustment to:
Weight limits
Repose offers a wide range of sizes, including larger sizes. Your supplier will advise you on the size and weight combinations available.
Repose use only the finest fabrics for your furniture, sourced from reputable upholstery mills, this being anything from standard domestic fabrics right through to leathers and specialist healthcare fabrics.
For our full range of fabrics please view our: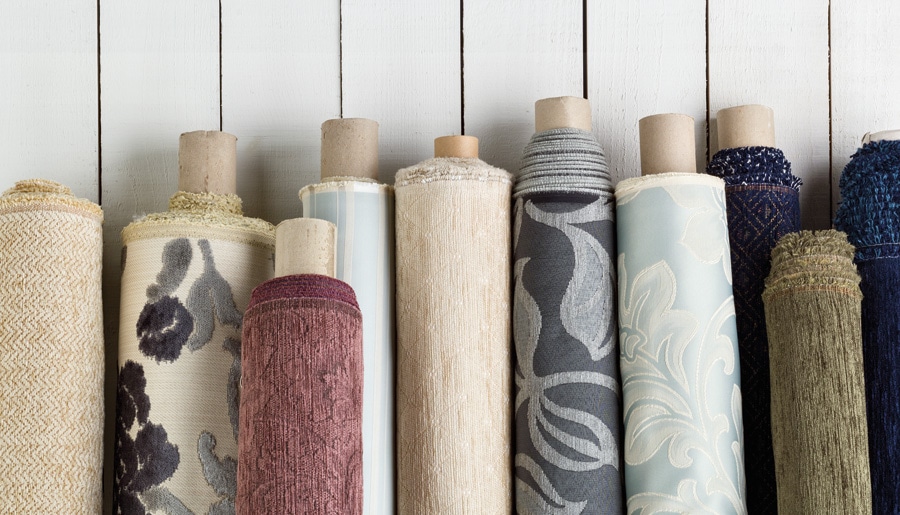 If you would like to find out about what back cushions are available on other rise and recline chairs from the Repose range please contact the sales department on 01384 567401.
---
Comfort Lateral
Soft fibre filled back with lateral support, which can be useful for those who have limited trunk control or balance. It can be useful for those with early stages of neurological conditions such as MS or a Stroke survivor.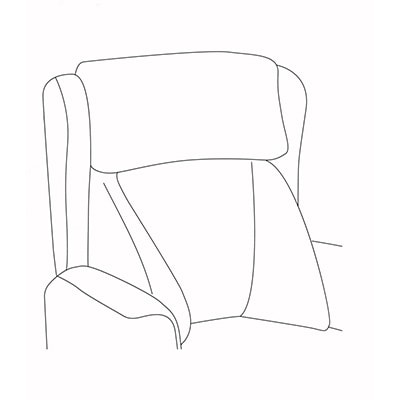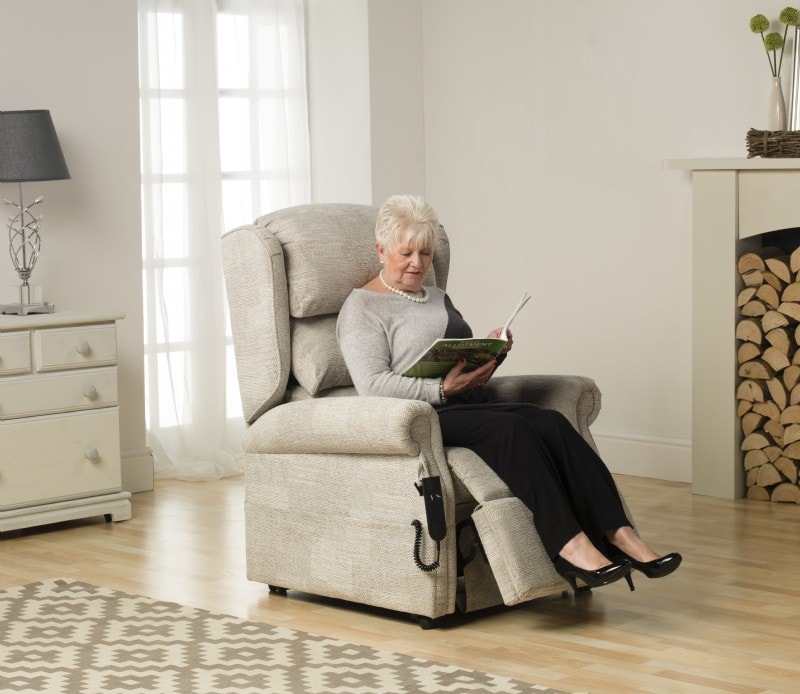 The choice of materials in the seat cushion of your chair can make all the difference to your comfort and support. We offer the full range from soft and firm quality Reflex foam, to our specialist care cushions.
If you need a little more support from your seat cushion, perhaps if you sit for long periods in your chair, do consider our specialist seat cushions.
For ultimate comfort at the heart of your chair, we can also build in our Luxury Pocket Sprung Cushion. Designed with individual high tensile steel coil springs in individual pockets, the springs give consistent support throughout the life of the chair and lasting shape to the seat cushion.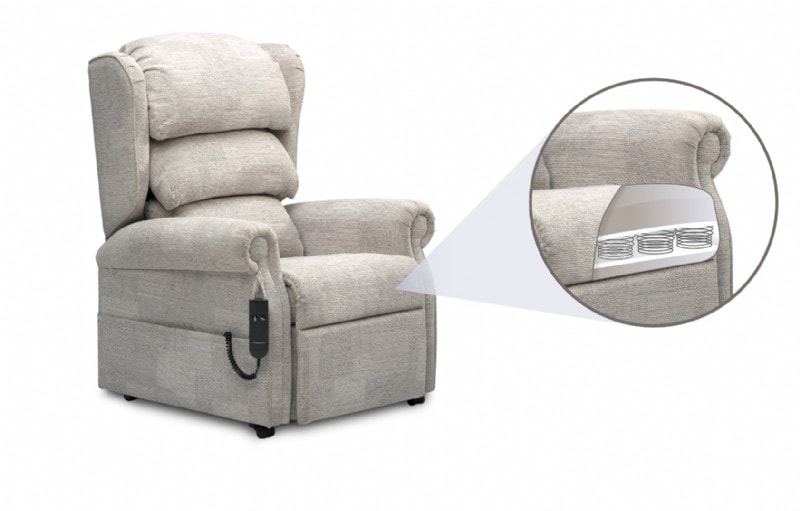 Please note: Pocket Sprung option is not available in chairs with seat widths over 22" or seat depths below 16". Pocket sprung seat is not compatible with Heat & Massage.
If you would like to find out about what headrest cushions are available on other rise recliner chairs from the Repose range please contact the sales department on 01384 567401.
---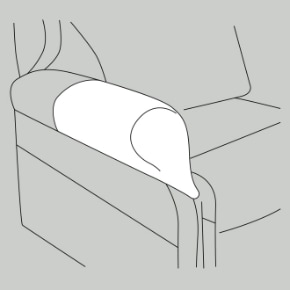 ---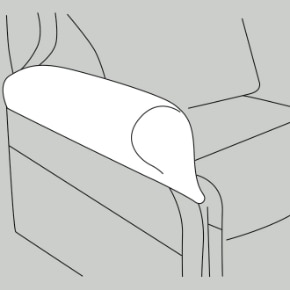 ---
Head Cushions
We have a range of headrest cushions available, please see our comparison chart below.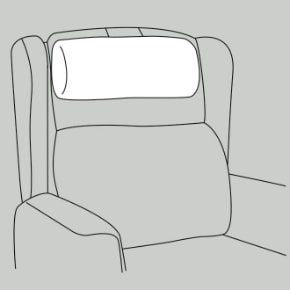 ---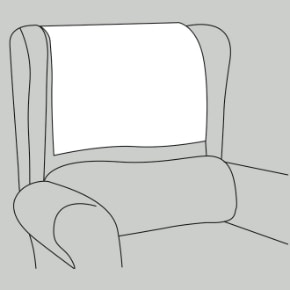 ---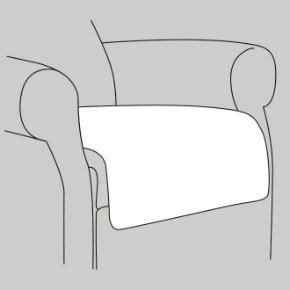 ---
Arm Upgrade – Wood Knuckles (light, medium or dark)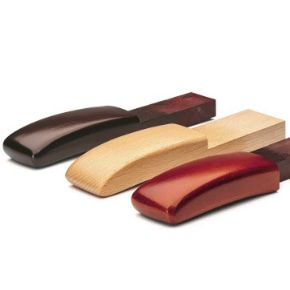 ---
Comfort Heat System
This system comes with two heat modules, one fitted into the seat of the chair and the other in a loose cushion heat pad that you can use behind your back, on your lap or to one side. The pads are controlled separately with an easy to use handset which has two temperature settings.
The heat only system costs as low as 1p an hour offering an economic way of providing a little more warmth on cold days.
Available on all chairs in our recliner range, the system features two controllable heating pads; One is fitted in the seat area during manufacture and the other is a loose, cushion pad that can then be positioned wherever you choose – behind you, to the side or on your lap.
Simple, versatile control The pads can be independently controlled so you can choose to have both on, or just one. The easy to use handset also has two temperature settings; just press once for low and twice for high – it's that simple and that versatile!
Both the loose cushion pad and the control handset can also be easily removed and put away if required, by simply unclipping the cables, which are neatly hidden in the chair side pocket.
Safety On the high setting the maximum temperature of the pads is limited to 65° and each is fitted with a thermostatic cut-out to prevent overheating. The system is also fitted with 4 fuses so that, in the event of a major spillage, safety is ensured.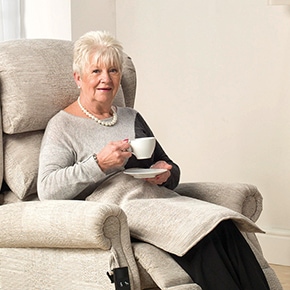 ---
Relaxor Heat and Massage System
The Relaxor helps soothe tired and aching muscles with gentle vibration and warmth. A separate handset controls different vibration zones built into the chair to massage upper back, lower back, upper and lower thighs and calves. Choose your own intensity and speed of each of the pairs of pads. The heat pad in the bottom lumbar of the back cushion completes the relaxing process, exactly what is needed at the end of the day.
Please note: It is recommended that you consult a healthcare professional or doctor if you suffer with a medical condition or have any medical device fitted (e.g. pacemaker) before purchasing this system.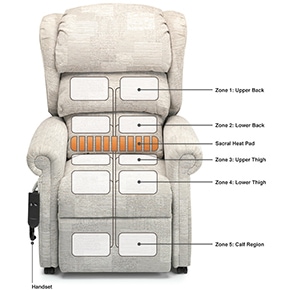 ---
Reading Lamp
This built-in lamp brings the light to where it is most needed and can be set at three brightness levels.
This operated by the handset which operates your chair also.  The Reading lamp can be removed and stored away when not required.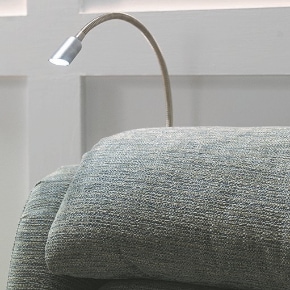 ---
USB Charger
A USB charging point can be fitted to the chair to charge or operate items such as a mobile phone, tablet or ipad.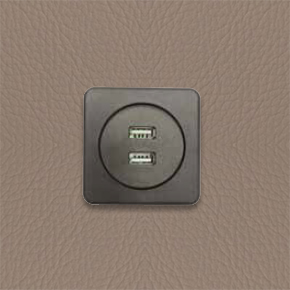 ---
Accupak Rechargeable Battery System
This will allow your chair to operate without being connected to main power. So if there is need for the chair to be placed in a position away from a power socket, the chair can comfortable operate safely. The battery system installed will operate your chair between 80 – 100 movements before starting to warn an acoustic noise, warning you the power supply is low. With an overnight charge the chair will be fully charged and in operation the following morning.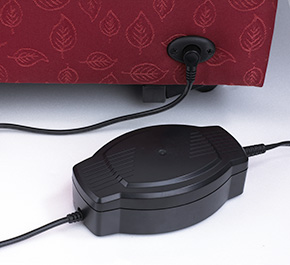 The Chepstow riser recliner is available with the following mechanisms:
Single Motor Tilt in Space
Dual Motor Tilt in Space
Standard Dual Motor
Single Motor Wallhugger
Single Motor Three Way
VAL - Variable Angle Lift Technology
Watch the clips below to see the full range of movement with each of these mechanisms. The link at the top of the page also provides a quick overview of each mechanism.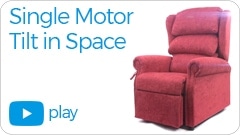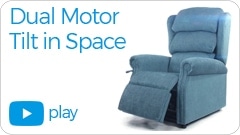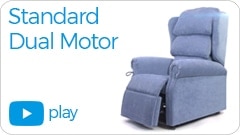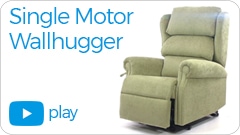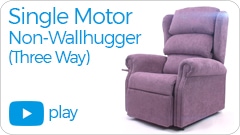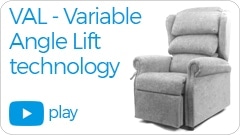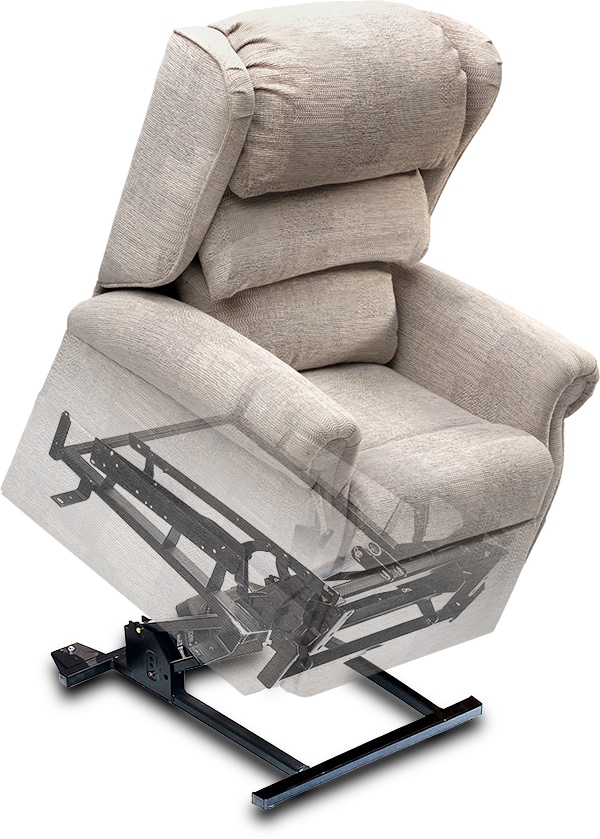 ---
Styleline Handset with On/Off Button
On some handsets you can choose to have an on/off emergency stop button. Please ask your supplier for the option available on your chair model.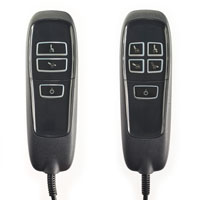 ---
Accupak Rechargeable Battery System
The Accupak power pack enables you to use the chair away from a power supply. The battery provides an average of up to 100 adjustment cycles and will need recharging regularly to retain the quality of usage. It can be charged by simply plugging it in. The system sits out of sight under the chair and the charging outlet is built into the side of the chair.
Please note that the Accupak is not compatible with the Reading Lamp.
Full user instructions can be found in the user manual – please read these carefully before using the chair and Accupak. A copy of the manual can be found in the Brochures Section.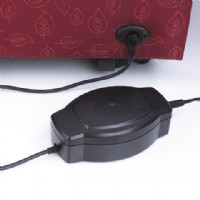 ---
20 Cycle Back Up Unit
This back up system comes as stand-alone unit that can carry out up to 20 chair adjustments. It should only be used as an emergency back-up system.
Full user instructions can be found in your user manual – please read these carefully before using the chair and the 20 cycle back up. A copy of the manual can be found in the Brochures Section.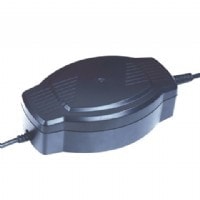 ---
Enclosure Skirt
The enclosure skirt hides the mechanism when the chair is either in the full rise or recline positions. This has been designed to stop small pets entering the mechanism whilst in the recline or rise positions.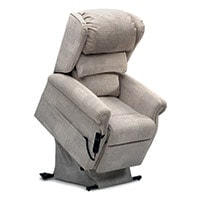 Below is a summary of our Standard two-year warranty terms and conditions.
There is also the option to upgrade to a five-year comprehensive care plan.
Standard Two-Year Warranty

Two years on mechanisms, frame, upholstery and electrics.

One year on air seat cushions and also on some additional accessories such as the Accupak, 20 Cycle Back up and Relaxor heat and massage systems.

Repose will repair or replace, at our discretion and free of charge to the original purchaser, any parts covered by this warranty and that on examination, are found to be defective in material and/or workmanship. The warranty is for parts and labour only. The product or parts requiring repair/replacement must be returned to Repose by you and you will be responsible for the costs of packaging, postage and any postal insurance.

Any products returned to Repose must be disinfected and should pose no health hazard.

For full details of the warranty including return of faulty products, exclusions etc. please see downloadable 2 year warranty document below.
---
Upgrade to a Five-Year Warranty*

You can upgrade your standard warranty anytime within 14 days after delivery of the chair. You can upgrade to a unique five-year comprehensive care plan that includes:

Comprehensive cover for structural and accidental damage
Stain removal and repair at no extra cost to you
One call for advice and service
National network of professional technicians
Original value replacements

It truly offers real peace of mind, covering you against:

Structural damage to:
Accidental damage including:
Staining

For full details of the upgrade warranty please see the downloadable 5 year warranty document below.
* non-commercial only