Riser Recliner Chairs: How Repose Is Improving the Quality of Life for Those in Senior Care
Have A Question About Our Riser Recliner Chairs? Get In Touch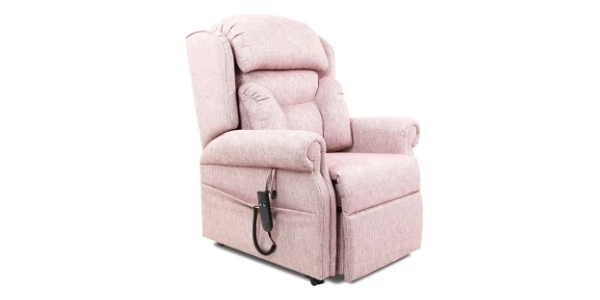 Elderly citizens often experience issues with their mobility and require assistance sitting down and getting back on their feet. Due to this, it is important that they have a riser recliner chair that helps them to be seated in the best possible way to avoid any possible injuries, which could potentially lead to a decreasing quality of life.
It is important to have an idea of the type of recliner that can give your loved ones that would help with their comfort.
Riser Recliner Chairs Can Help with Senior Care
A riser recliner chair can be a real life-saver for those who are struggling with senior care. It is not only about comfort. It's also about safety. An elderly person can enjoy their comfort and support with the help of a riser recliner chair, as well as give them added support, especially if they have issues with their mobility, such as an inability to stand on their own.
What Benefits Do Rise Recliner Chairs Offer Seniors?
When searching for riser recliner chairs for the elderly, you want something that can offer various benefits that can help improve the lives of seniors who use them. Fortunately, rise recliner chairs provide several benefits that can improve the quality of life of your loved ones. They include but aren't limited to:
Supporting mobility: Mobility recliner chairs are great for promoting an active life and independent living among seniors who need extra support with sitting and standing.
Reducing the development of pressure sores: Riser recliner chairs allow for repositioning and easy movement to prevent pressure sores from sitting in one position for too long.
Allows for more comfortable sitting positions: Aids with better circulation, which in turn, offers a relaxing experience.
Made to fit: Some riser recliners offer a made to sit chairs with a personalised look. At Repose, all our riser recliner chairs are designed and manufactured with the customer in mind, guaranteeing that your loved one gets a stand-up chair that suits their specific requirements.
How Can Repose Improve the Quality of Life for Senior Care?
Motorized Lift Can Help with Mobility
Repose improves the quality of life for those in senior care by making it easier to move in and out of their chair. The easy-to-use, motorized lift feature can be operated with one hand, making it possible for seniors to get up without assistance.
Repose is one of many mobility recliner chairs on the market today. Its recliners can help to improve the quality of life by allowing seniors to live independently. A stand-up recliner chair for the elderly comes with an easy to use remote, meaning elderly users can stand, sit and lay down whenever they wish.
Promotes Comfort Making a Better Overall Experience
Repose offers riser recliner chairs for the elderly with comfort in mind as elderly users can get a full range of movement to keep them feeling comfortable. This is because the elderly need a chair with a range of motion, which lets them sit up or lie back at their desired angle. With chairs made to fit anyone, Repose can help seniors relax in comfort and style.
Enquire Today and Order Your Bespoke Riser Recliner Chair!
Don't wait, enquire today and order your bespoke riser recliner chair by using our quick and easy contact form below. You can also get in touch and speak directly with a member of our experienced, friendly team today on +44 (0)1384 567401 or email us at info@reposefurniture.com. We're looking forward to hearing from you.